BA (Hons) Business Studies with Foundation Year programme has been designed with particular emphasis on the students who might otherwise miss the opportunity to study in the UK for a business degree due to being too occupied in their profession.
The course facilitates the development of managerial skills in the students. To impart its students practical experience, its training programme, puts students through a wide range of situations that require decision making at strategic & tactical levels, thereby preparing them for the future. We emphasise inculcating a critical understanding of ethical principles & standard practices.
The course material of this industry-focused course contains the dynamics of the complex business world of the day, which in turn helps the students thrive in their professional life.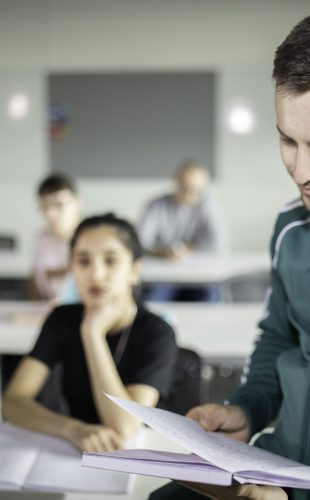 BA (Hons) Business Studies with Foundation Year is an integrated 4-year programme in partnership with the University of West London (UWL). The Programme endeavours to:
Empower students from a variety of educational backgrounds to realise their academic potential.
Develop the personal & interpersonal transferable skills of the students.
Open a wide range of career opportunities for the students and boost their earning potentials.
Provide those who are in full-time employment a relatively convenient mode to obtain a university degree.
Provide employers with graduates with specific job skills. 
The Programme material comes in the form of lectures, seminars, and support tutorials. To help the learners develop ownership, the college also promotes independent learning. Guided learning is utilised during Business Research and Final Business Project, imparting training to students through tasks designed to promote a sense of responsibility, communication skills, and decision-making abilities.
Employers constantly look for soft skills in their potential employees. One of the key methods of promoting it amongst students is to facilitate their increased participation in group interactions. At the same time, the employers also lay emphasis on the potential employee's ability to work independently. The college equips students with both these skills, preparing them to excel in the professional world.

Course Structure (September)
Course Structure (February)
Course Structure (September)
Programme structure for Level 3, 4, 5 and 6 – September intake
 
Semester 1
Semester 2
 
Core
Core
Core
Core
Core
Core
Level 3
Personalised Learning
Introduction to Business
Recording Business Transactions
Managing People and Systems
Data Handling and Using ICT
Academic Performance
Level 4

 

Professional Skills for Business

Researching Business Data

 

Introduction to HRM

 

Principles of Marketing
Information Communications Technology
Business Accounting
 
Core
Core
Core
Core
Core
Core
Level 5

Enterprise and Business Development

 

Managing Business Operations
Business Economics
Business ethics
Organisational behaviour
Research Methods
Level 6
Strategic Management
International Trade, Finance and Investment
Business Research report (semester 1and 2)
International Business

 

 

Managing Small and medium enterprise

 
Course Structure (February)
Year 1
Year 2
Year 3
Year 4
Teaching & Learning Data
Assessment
Teaching & Learning Data
| | | | | |
| --- | --- | --- | --- | --- |
| Percentage of students' study time: | Level 3 | Level 4 | Level 5 | Level 6 |
| Scheduled Teaching & Learning Time | 20% | 28% | 28% | 28% |
| Independent Learning Time | 80% | 72% | 72% | 72% |
Assessment
*Though there are no exams, there may be some in-class or online tests for some of the modules.
Why OBC?
Entry Requirements
How to Apply?
Why OBC?
At OBC, the strong student support system provided by the college offers one on one academic, personal, and career support to the students. Moreover, the College provides each student with access to a virtual learning environment to ensure deeper engagement with the Programme content. The college also provides the scope for adapting learning & teaching, when required and where possible, to the specific needs of the students. 
With the faculty including prominent names in the business circuit, the students get to develop networks to propel their careers.
At Oxford Business College, sustainability forms a part of the curriculum. It is specifically embedded in the programme in the form of its module on Enterprise, Sustainability, and Business Ethics.
Entry Requirements
How to Apply?