We strive to manage the social, environmental, and economic effects of our operations responsibly. We have embedded Sustainable Development Goals (SDGs) in our organisational strategy to achieve this. 
Our strategic goal is to support, adopt and implement SDGs in governance and operations.
Although the SDGs are interconnected, our initiatives are aligned to a few selected SDGs. 
The College hosts eminent authors from around the world to discuss notable literary works emerging from various countries. Recently we hosted noted Indian journalist Abhigyan Prakash and organised a conversation on his book 'From Lucknow To Lutyens: The Power & Plight of Uttar Pradesh.'
This initiative has been promoted in partnerships with the Prabha Khaitan Foundation and the British Council. The events under this initiative aim to encourage equality and diversity as well as women's empowerment and livelihood opportunities.
english for ukraine war victims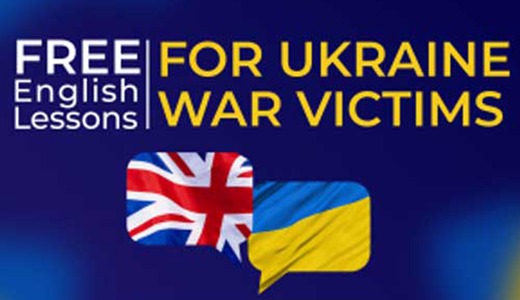 As destruction worsens in Ukraine, leaving behind everything, Ukrainian people are migrating to foreign lands. Communication might be a significant obstacle to restarting a life from scratch as the majority of the migrated people do not know foreign languages, especially English.
To help them resettle, we have decided to do what we are best at – Educating. Providing Ukraine war victims with free English courses is our latest CSR initiative. The 12 weeks course, free for anybody from the war zone.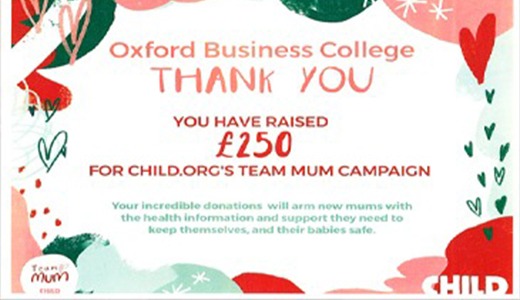 Staff and students of Oxford Business College have been working together to raise funds for the Team Mum Campaign of Child.org.
The initiative supports new mothers by giving them the health information and assistance to keep themselves and their babies safe.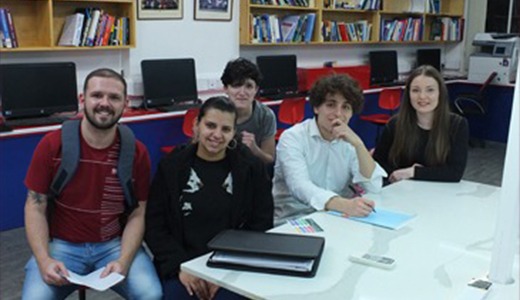 Under this programme our students work at school clubs, local nurseries, and local primary schools. The students provide classroom assistance as they read with pupils, participate in lunchtime play, and extend one-to-one mentoring.
Apart from giving back to the community, the programme helps our students absorb lessons on empathy. The satisfaction of having helped others, in turn, promotes our students' mental well being.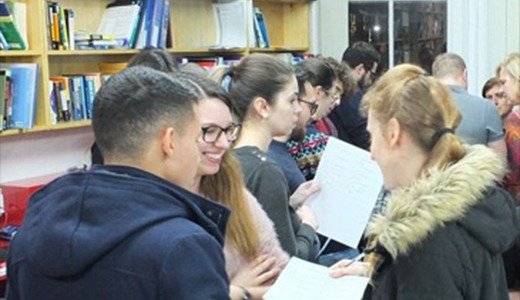 This initiative provides free English classes to students who experience a barrier in accessing Higher Education. The project particularly pays attention to the students from first, and second-generation immigrant households, allowing them to pursue their chosen careers with confidence. The focus area of the programme includes: 
Additional educational facilities in the locality, enabling more people from disadvantaged communities to participate.

Access to academic and vocational programmes which may not have otherwise been possible for the students and their families.

Providing information on British values and principles to young people who may be vulnerable to radicalism and extremism.
Afghanistan Crisis Appeal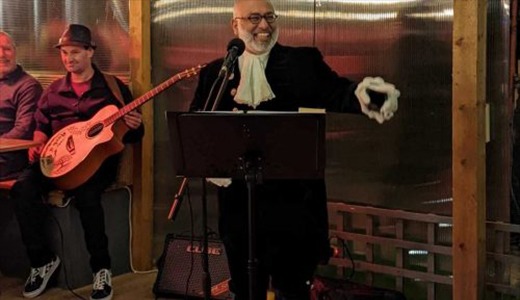 Oxford Business College joined the residents of Garsington village in Oxfordshire to collect more than £6000 at a charity event for Afghan people. The funds raised at this event in the last week of January 2022, were donated to Disaster Emergency Committee's 'Afghanistan Crisis Appeal'. DEC is an organisation that brings together 15 leading aid agencies to raise funds for countries hit by large scale disasters.
The College also contributes to national charities by raising funds through innovative campaigns. These charities include:
Cancer Research UK
Age Concern
The British Asian Trust (Prince of Wales Charity)
The Evening Standard Homeless Fund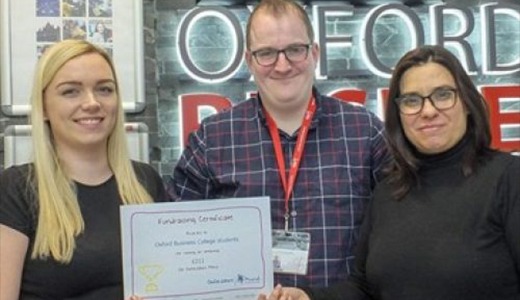 The College ran a fundraising campaign to support the cause of Oxfordshire Mind. It received a certification of appreciation for the effort made and donations collected for this local charity.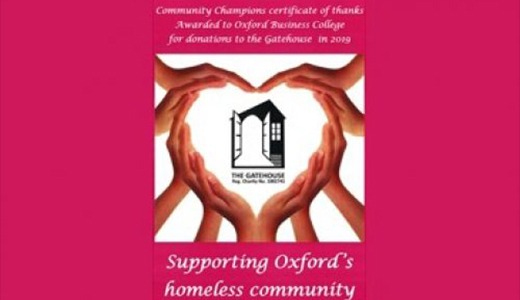 This charity supports Oxford's homeless community. The College staff and students worked extensively with The Gatehouse and contributed substantially to its fundraising campaign.
Fresh Water Project, Bangladesh
This project focuses on protecting the water supplies, hygiene and livelihoods of communities living in coastal areas of Bangladesh. These areas are prone to flooding and at risk of contamination by seawater. The project has been implemented by Oxfam.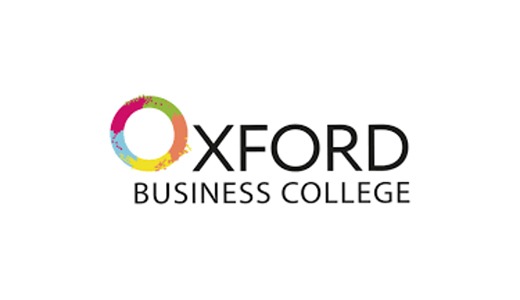 Founded in 2007 by HRH The Prince of Wales and a group of British Asian business leaders, it endeavours to tackle widespread poverty, inequality and injustice in South Asia. The primary focus areas are: 
Education
Livelihoods
Anti-Trafficking
Mental Health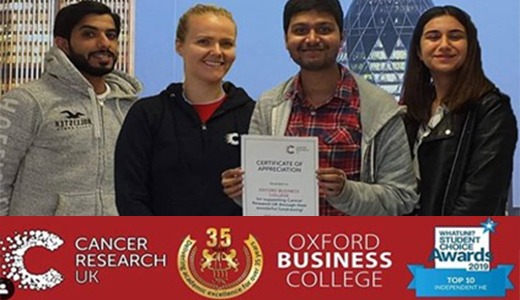 The foundation strives to make a meaningful impact on communities in the UK and overseas by supporting and championing the social care sector. It focuses on care workers and those living in care. In 2019 the charity reached more than 41,000 people through awareness-raising. It also contributes to community mental health services.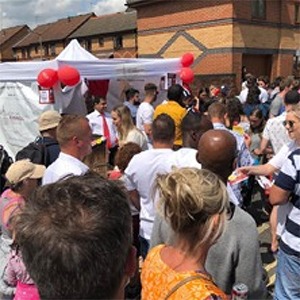 The College contributed to the campaign to reduce single-use plastic water bottles by distributing more than 25,000 recycled water flasks to people attending Oxford's Cowley Road Carnival in 2019. In addition, we encouraged the attendees to take their water bottles home and reuse them.
This initiative created awareness of the perils of single-use plastic and helped cut down on the litter that often follows large gatherings.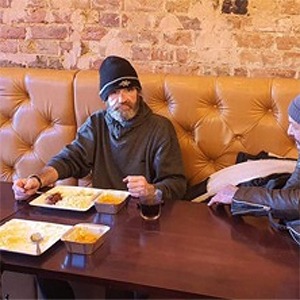 We partnered at Christmas with several local restaurants in Oxford to provide people without homes with Christmas dinner and gifts. Employees at the restaurants also encouraged their customers to donate blankets, gloves and jackets as festive gifts to those in need. 
The campaign received enormous support, with restaurants staying open between midday and 5 pm for a free Christmas dinner consisting of a starter, roast turkey and pudding.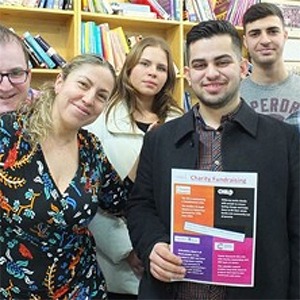 We have been associated with The Nurture Project, an innovative pilot scheme launched by Oxfordshire Council. The project was designed to assist infant school pupils with their early academic growth and development. OBC students employed varied strategies to further these objectives.
While we worked on helping individuals and groups with language development through supported reading, we promoted numeracy skills through board games and social skills were fostered through play.