This Course will enable students to grasp the academic integrity and practice to gain a solid foundation in business and management applied to creative industries and to not only explore functions of business enterprise but to develop an understanding of how organisations evolve for future sustainable growth and how you can be part of that.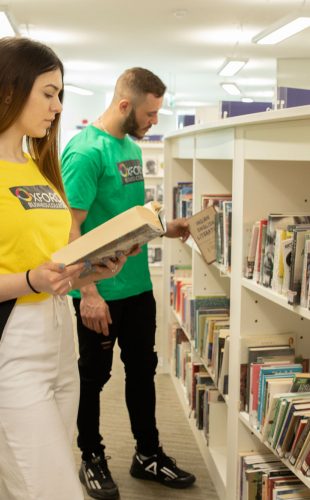 BSc (Hons) Business Management with Foundation Year is an integrated 4-year programme in partnership with Ravensbourne University London. The highlights of the course are:
1. Industry focused: work to live project briefs and discover opportunities within the creative industries even before you graduate 

2. You will be provided with the skills needed to help future-proof the creative industries by promoting sustainable business practices 

3. Develop strong communication skills: you will learn to communicate visually, verbally and creatively through multiple forms of digital creative media 

4. Industry linked assessment methods: to prepare you for industry, assessment methods such as pitches and presentations will mimic industry and help prepare you for industry

5. Business planning: students are encouraged to bring their own unique entrepreneurial ideas to the course and create business proposals for development

Year 0
The Year 0 in Business management is a foundation course which will introduce students to all the fundamental principles of academic practice through writing and skillsets for research and development which is aligned to Business management and its application within the Creative Industries. The course covers practical writing, critical thinking, and research skills alongside inquiry- based learning which provide a framework and underpinning for enabling students to progress to advanced learning.
While the course is primarily academic and theory based, creative thinking and visual as well as verbal presentation are practiced and fully integrated to provide vital transferable skills to progress to the undergraduate degree programme.
The units are designed to enable students to build their academic practice incrementally throughout the programme. The programme allows student to focus heavily on development of the hard and soft skills needed in the foundation of business and management with particular focus on Academic writing, innovative thinking, Communication skills and research practice.
In semester one, you will be introduced to academic development across two units. One for Critical thinking and research which will underpin your entire programme through the rigour and integrity of academic practice and the latter in writing and communication where you get to choose your output of assessment task in written form. Alongside your two fundamental units you will be introduced to Business Management. Identifying with basic finance to HR and marketing teams all of which add value to management, you get to learn about the competitive global landscape and how businesses function.
By semester two students' exposure to business and academic practice will be thoroughly explored and your foundation units will be developing professional skills involving your entrepreneurial mindset and working on an inquiry-based learning project, which will focus resolution for a business management foundation project for final execution.
Course Structure
| | | | | |
| --- | --- | --- | --- | --- |
| Module Code | Module Title | Shared Module | Mandatory / Elective | Credits |
| Level 3 |   |   |   |   |
| XXX | Academic Development – Critical Thinking and Research | X | Mandatory | 20 |
| XXX | Academic Development – Writing and Communication | X | Mandatory | 20 |
| XXX | Introduction to Business Management | X | Mandatory | 20 |
| XXX | Developing professional Skills | X | Mandatory | 20 |
| XXX | Marketing Fundamentals | X | Mandatory | 20 |
| XXX | Business Management Foundation Project | X | Mandatory | 20 |
|   |   |   | Total | 120 |
Teaching & Learning Modules
Assessment
Learning Hours
Teaching & Learning Modules
Lectures
Group Tutorials
Formative assessments/ Critiques
Case Studies
Seminars
Workshops
Film/video content
Flipped classroom activities
Simulated lab activities
Self-directed study
Group work
Academic writing workshops
Research workshops
Library inductions
Assessment
Learning Hours
Why OBC?
Entry Requirements
How to Apply?
Why OBC?
Oxford Business College has recorded a commendable performance in National Student Survey (NSS) 2022. Results of the survey show the College amongst the top 15% of all teaching institutions for the student's overall satisfaction.  The learning opportunity has been the most vital performing scale area, where OBC scored  92.32% and stood 5.64 % above the national benchmark. 
Altogether, Oxford Business College (OBC) performed above the benchmark in 6 out of the seven key themes, which secured 66th place for it amongst 431 higher education teaching institutions of the UK participating in the survey.
Oxford Business College is the oldest Business School in Oxford, with campuses in London, Slough, Nottingham & Coventry. The Chartered Association of Business Schools (CABS) recently awarded its associate membership to the College. It is CABS's first membership to any private higher education institution in the UK.
Recipient of two consecutive 'WhatUni' Student Choice Awards, we are the best Independent Higher Education provider in the UK.  Our courses offer flexible start dates throughout the year. This makes the College ideal for anyone embarking on their career or on an alternative route to an undergraduate or postgraduate degree, or a professional qualification.
We leave no stone unturned in providing the support needed by our students to make their educational experience fulfilling and rewarding.
At OBC, the strong student support system provided by the college offers one on one academic, personal, and career support to the students. The college also provides the scope for adapting learning & teaching, when required and where possible, to the specific needs of the students. 
With the faculty including prominent names in the business circuit, the students get to develop networks to propel their careers.
Entry Requirements
How to Apply?