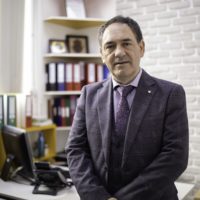 Murray Cooper
Head of Academics & Quality
An alumnus of Oxford University and School of Oriental and Asian Studies (SOAS), University of London, Murray has been teaching English for over 30 years. He is responsible for quality oversight of all Higher Education programmes at Oxford Business College.
After attaining his Bachelor's from the University of London, and a DELTA from International House, he did his MSc from Oxford University, specialising in 'Teaching English Language in University Settings.' His long experience includes teaching Business English, Drama and sub-technical skills in six countries. 
He has also been teaching 'UK teaching modules' in HNC/D Business, Strategic Management and Leadership, Hospitality Management, and Travel and Tourism Management for more than nine years. 
A respected name in the academic circles, Murray's career includes the positions of Director of Studies at two Colleges in London and Head of Academics at two Colleges in London and Oxford. In addition, he had been running a Youth Parliament. He also made presentations at conferences for the Association of European Hospitality and Tourism Schools (AEHT). 
His interests include Pedagogical implications of second language acquisition theory, and teacher cognition and practice.