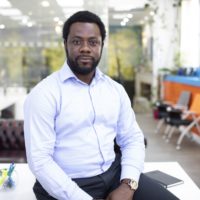 Dr Alaoma Alozie
Lecturer / Academic Programme Manager
Dr Alaoma Alozie holds a PhD from the Centre for Environmental Policy at Imperial College London. Prior to doctoral research study, he obtained an MSc with Distinction in Environmental Toxicology from the University of Lancaster. Shortly after doctoral research, Dr Alozie joined the Stockholm Environment Institute at the University of York as a Postdoctoral Research Associate and worked on the Sustainable Manufacturing and Environmental Pollution (SMEP) Project funded by the United Nations Conference on Trade and Development (UNCTAD) and the UK Department for International Development (DFID).
Alaoma is a recipient of several awards and scholarships including Best Graduating Student in Biochemistry (Bachelor's degree), State Honours' Award, Nigeria President's National Youth Service Corps Honours' Award (highest honours' award conferred to a Nigerian Youth), Imperial Plus Award for serving as PhD representative in Imperial College London. He also worked with Nigeria's Ministry of Health as a technical focal person to facilitate the development of a national guideline for a survey on drug use.
Alaoma plays lawn tennis, scrabble, chess, guitar; and loves travelling. He also enjoys talks related to Environment, Sustainability and Business.