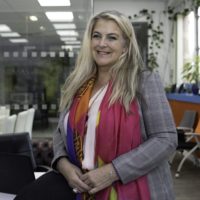 Diana Munoz
Module Leader / Lecturer
A qualified English language teacher Diana has been teaching English as a foreign language for over 20 years. Of late she has also taken up the role of teaching Business and Finance English to a number of international companies, official bodies and organisations.
After pursuing BA Hons in Modern Languages with International Studies from the University of South Bank, London, Diana undertook BA Grado en Economía from UAM-Universidad Autónoma de Madrid, and acquired Sciences Politiques from Universite de Sciences Po, Lyon, France. Her resume also boasts of CELTA, TEFL, CAMBRIDGE SPEAKING EXAMINER and CYSEC member (Cyprus Securities and Commission Exchange).
She enriched herself with the experience of living in a number of countries. Driven by her urge to learn she gained fluency in Spanish, French, Greek and Italian. Before academics, her professional career has been mainly in the financial markets and Forex trading.