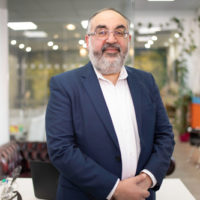 Assaad Dib
Senior Lecturer & Academic Lead
Assaad undertakes offline and online teaching, follow-up, support, and programme delivery for HNC/HND programme for Oxford Business College and top-up Innovation and Business Management Level 6 for University for Creative Arts. He serves as Module Leader for Data Insights in Decision Making, The Graduate Challenge and People Management (Undergraduate Level 4) for Buckingham New University.
He has a track record of extensive academic involvement in education, research and teaching in a range of British and international further and higher education institutions and universities some of which include the University of Leicester, University of Loughborough, Oxford Academy for Advanced Studies, University of Bath, Oxford Brookes University, University for Creative Arts, Buckinghamshire New University and Oxford Business College.
Assaad remains associated with undergraduate and postgraduate programme development, delivery, assessment, quality assurance and review for various stakeholders nationally and internationally. He has undertaken the role of Director of Studies for the NCC Foundation undergraduate and postgraduate programmes and supervised different coursework, projects, seminars, workshops, and training procedures. Assaad has also developed, supervised, and implemented practice-led research for Undergraduate's Senior Capstone Projects.
In addition to his profession as a teacher and programme developer, he has also assumed senior hybrid academic and administrative responsibilities over the three past decades.
Assaad's academic qualifications include Bachelor's in Journalism and MA in Mass Communication Research. He has served as Associate Fellow of Higher Education Academy (AFHEA 05/2013) and Fellow of Higher Education Academy (FHEA: 2014-ongoing).
His publications include Internal research-based and data-driven Institutional Reports on Higher Education Marketing, Higher Education Market Investment and Entry, Higher Education Market Positioning, Quality Assurance Compliance, University's Operational and Performance Assessment, University Partnerships, University's Financial and Managerial Statements Analysis and Decision-making Policy Evaluation and Challenges and Solutions for Hosting International Universities.