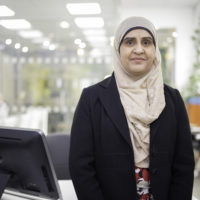 Alia Fardous
Head of Student Services
With over 17 years of experience in the education sector, Alia is a qualified CELTA teacher and holds a Bachelors' degree from the University of Central England in Industrial Information Technology (a blend of Engineering and Business Studies). 
 Alia has worked with various awarding bodies such as Tier 4, ISI and OFSTED/SFA. She also has vast experience teaching English on all academic levels, including IELTS and EAP. 
 Besides working in Management positions in the private education sector imparting Business and Health & Social Care courses, she has good experience as the head of quality and programme delivery for Functional Skills, Maths and English (up to Level 2).