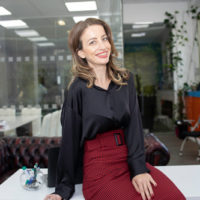 Alexandra Kraleva
Module Leader / Lecturer
An expert of creativity in business and higher education, Alexandra obtained a Master's Degree in Creative Industries and Arts Organisation at the Queen Mary University of London after a First-Class Honours Degree in Fashion Marketing and Business Management at London Metropolitan University with a dissertation topic 'The importance of creativity in Higher Education Institutions' awarded with A, the highest mark in the British educational system. She is currently working towards a doctoral degree in creativity at the business school and developing solutions for the sustainability of business education and creative industries.
Before joining OBC, she worked at 'The Network' the London's Centre for Creative and Cultural Economy as a creative consultant supporting, developing and establishing strong and social meaningful partnerships between educational institutions and the fast-growing creative British economy. Alexandra is delineating towards creativity in business education, ensuring that students have an outstanding knowledge of the subject and are ready to meet the needs of innovative, creative, and fast-thinking individuals.
She owns a company specialising in creative business consultancy for startups and well-developed businesses globally. Her publications include 'Creativity in teaching at Business School' and 'The role and the importance of Creativity in Education concerning Creative Industries and Arts Organisations'.